A Two-State Solution For Europe?
Moliner's proposal represents a total surrender to political Islam and is of course outrageous, especially considering that Muslims only comprise a little more than five percent of the French population. What he suggests, however, merely formalizes the status quo that already exists -- and not only in France -- even if it abandons reform-minded Muslims and eventually, with their collapsing demography, the non-Muslims there.
In France, the no-go zones with their Islamization and Islamic law, sharia, and most noticeably the subjugation of women, has already spread from the suburbs (banlieues) to the cities themselves. As Gatestone's Yves Mamou described:









"... no-go zones are no longer relegated to the suburbs, where migrants and Muslims have usually been concentrated. No-go zones, through mass migration, have been emerging in the heart of Paris, Bordeaux, Toulouse, Marseille, Grenoble, Avignon -- districts 'privatized' here and there by a mix of drug traffickers, Salafist zealots and Islamic youth gangs. The main victims are women. They are -- both Muslim and non-Muslim -- sexually harassed; some are sexually assaulted".



Last year, French TV aired a documentary about women disappearing from public view in certain areas, where parallel Islamic societies had taken hold. The program named Sevran in the district of Seine-Saint Denis -- a suburb of Paris described by French political scientist Gilles Kepel as "the capital of French Islam". There are 1.4 million people living in the district of Seine-Saint-Denis. More than 600,000 of them are Muslims. The French postal service recently said that it will no longer supply its Chronopost delivery service to Seine-Saint-Denis -- the danger to their delivery drivers is too high. Last year, 51 of its delivery drivers were reportedly attacked while doing their rounds.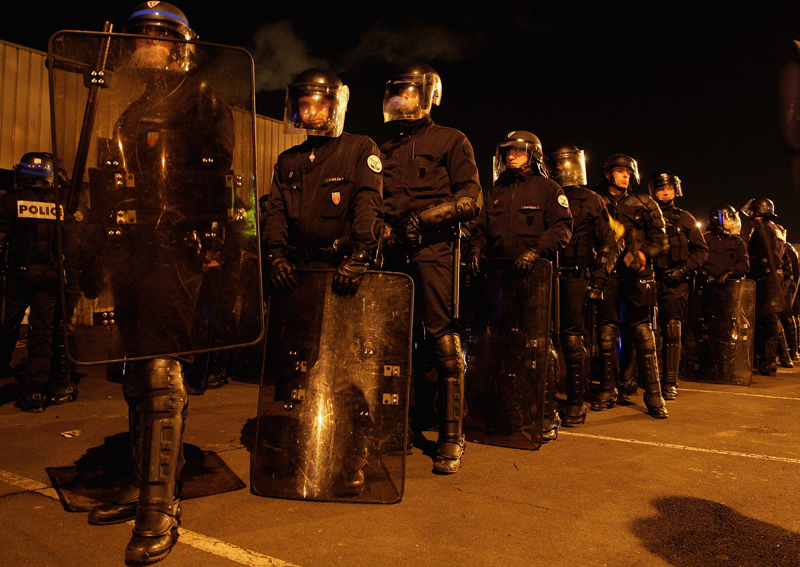 Riot police muster in the northern Paris suburb of Villiers-le-Bel, France. (Photo by Pascal Le Segretain/Getty Images)
In France, a poll conducted by Institut Montaigne this summer found that 29% of French Muslims found sharia to be more important to them than French laws. It also found that 67% of Muslims want their children to study Arabic and 56% think it should be taught in public schools.