Citi Fixed Income Crashes 21%, Worst Since 2011, In Ominous Sign For Wall Street
While traditionally it is JPMorgan Chase that kicks off bank earnings season, this quarter, Citigroup is taking the spotlight with its just reported Q4 results (followed by JPMorgan and Wells Fargo & Co. on Tuesday), and its earnings numbers are anything but a welcome harbinger for what to expect.
Citi reported adjusted EPS (excluding tax reform effect) of $1.61, slightly better than the consensus estimate of $1.55, thanks to a drop in the company's effective tax rate, which dipped to 19% in Q4, and would have been 21% ex-tax reform, both lower compared to the 25% a year ago.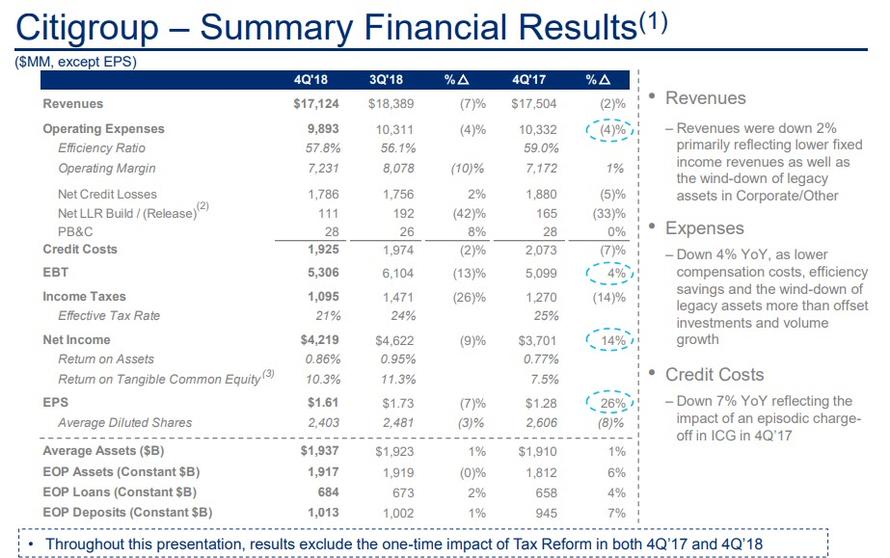 That was it for the good news, because one look at the top line reveals an unexpected deterioration, as 4Q revenue of $17.1BN dropped 2% Y/Y and missed the consensus estimate of $17.6BN badly, dropping to a two-year low as a result of a plunge in fixed income markets revenue which fell 39% sequentially and 21% y/y to $1.94b vs estimate $2.23b. This was the lowest fixed income print since 2011, and the worst performance under CEO Michael Corbat.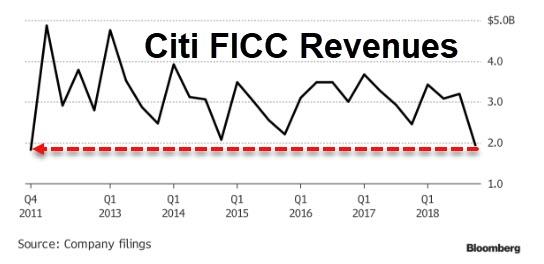 It wasn't just fixed income: equity markets revenue also fell 16% q/q, however despite rebounded 18% y/y to $668MM, it also missed the $672MM consensus estimate.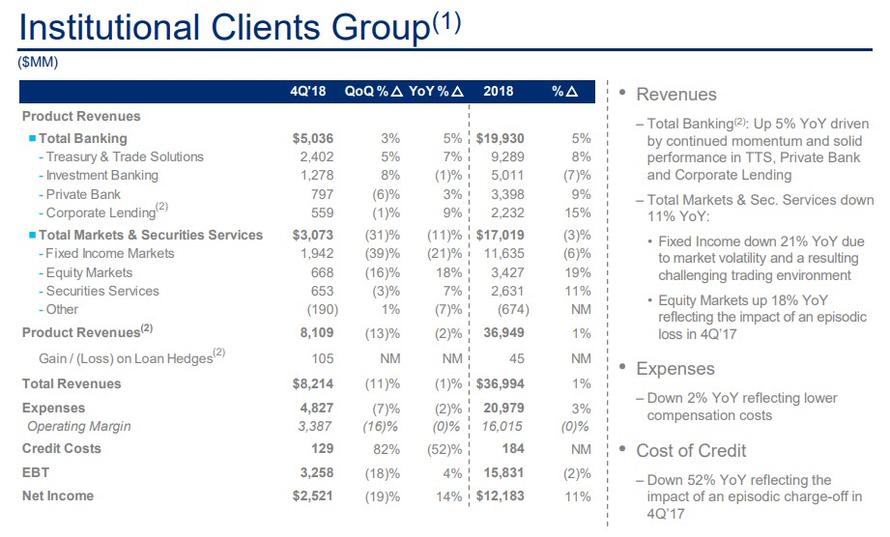 Indicating just adverse the trading environment of the past month was, Citi missed a full-year profitability target by an even bigger margin than it signaled only five weeks ago.
The silver lining: investment banking revenue rose 8% q/q, and yet despite the 1% Y/Y decline, at $1.28BN it modestly beat estimates of $1.18BN, as M&A advisory revenue jumped 47% to $463 million. According to Bloomberg, the combined revenue from stock and bond underwriting dropped more than estimates. Revenue from stock underwriting slumped 28% to $181 million, worse than analysts anticipated, while revenue from bond underwriting fell 13% to $634 million, a smaller drop than estimated.
Meanwhile, on the expense side, 4Q operating expense fell 4% y/y to $9.9b, driven by lower compensation costs, efficiency savings and wind-down of legacy assets, partially offset by investments and volume growth; the bank's 4Q efficiency ratio dropped again to 57.4% vs 57.7% in 3Q.